Bluebell Cross Stitch Kit
Bluebell cross stitch kit part of our botanical range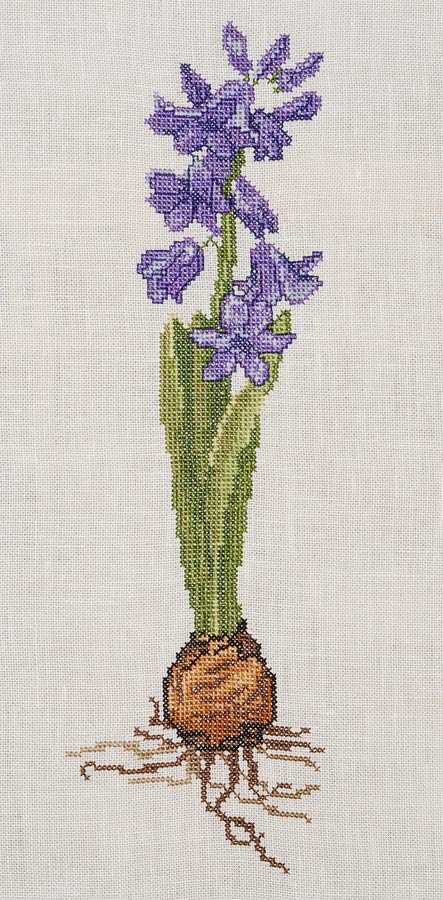 Bluebell
Bluebell cross stitch from an original painting by Alice Gordon (circa. 1917). A popular spring flower found in woodland and gardens throughout Europe.
The Bluebell
Hyacinthoides non-scripta
Another of our favourite flowers, a lovely bringer of spring.   Our bluebell cross stitch kit was inspired by the beautiful deep blue colour of the flowers and the bright spring green of the leaves, guaranteed to lift your mood whilst stitching.
The bluebell is a flower of ancient woodland it flowers from mid April to May, before the woodland canopy develops leaves and shades the flowers from the sunlight.  Britain has more than half the world's population of bluebells and they can be found in colourful swathes in most of our broadleaved woods.
They are an early source of nectar for our valuable bees, hoverflies and butterflies, but are under threat  by the non-native Spanish bluebells which are widely grown in gardens. To try and protect our native bluebell it has been illegal since 1998 to remove plants from woodland.
The bluebell has been historically used as a diuretic and it is claimed to have 'styptic' properties (stops bleeding when applied to a wound).  It is not used medicinally today.
The gummy juice found in all parts of the plant was used as starch substitute to stiffen the ruffs worn in Elizabethan times, it was used as a bookbinders' gum and also for setting feathers onto arrows.
Please be aware that all parts of the bluebell are poisonous and the sap may cause contact dermatitis.